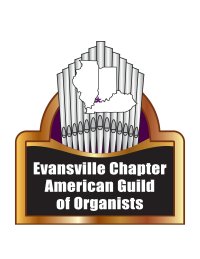 AMERICAN GUILD OF ORGANISTS
Evansville Chapter
DUFFORD SCHOLARSHIP AUDITIONS FOR YOUNG ORGANISTS
The Evansville Chapter of the American Guild of Organists is proud to provide this scholarship, in order to encourage organ study and to promote high standards in organ performance.

1. The audition will be held on a date to be determined by the chapter, usually in the spring of the year. Organists who are high school students or younger, and who will not have reached their 19th birthday as of July 1 of the audition year are eligible to participate. There is no minimum age limit.

2. There is a registration fee to help cover expenses. Information about the organ and scheduling of practice time will be provided on receipt of completed registration.

3. Each performer is eligible for a Dufford scholarship awarded by the Evansville AGO for attendance at a Pipe Organ Encounter or for other organ study. The number and amount of the scholarships will be determined by the judges and the Scholarship Committee.

4. Playing requirements:
1. A Bach prelude and fugue from the Eight Little Preludes and Fugues, or the Prelude and Fugue in E minor ("Cathedral"), or the Fugue in G minor ("Little"), or any movement or movements from a major Bach work.
2. One contrasting solo organ composition by a composer of the Romantic or Contemporary or French Classic or Early Italian period.
3. One hymn of the organist's choice, to be prepared in advance. The organist will introduce the hymn and play two verses, as if accompanying a large enthusiastic congregation.

These three items may be played in any order the performer chooses.
7. Memorization is not required. A page turner will be provided.

8. The scholarship audition may be open to the general public as a program of the Evansville AGO chapter.

9. Each performer will receive written comments from one or more qualified judges, none of whom has students participating in the audition.

10. NO ILLEGALLY REPRODUCED MUSIC MAY BE USED BY THE PERFORMER.

11. Participants may be invited to perform at a future Evansville AGO chapter program.

For more information, contact an officer of the Evansville Chapter of the A.G.O.