Vincennes University
Wurlitzer Theater Organ
3 Manuals, 12 Ranks
---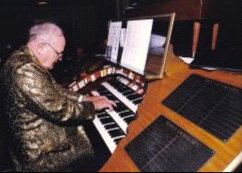 George R. Smith playing the Mighty Wurlitzer organ at Vincennes University.*
---
Excerpts from an article by David Goodnow in VincennesVoice.com*
George Smith was on campus at Vincennes University many times playing an organ or piano for various events. These included his accompaniment during the many performances, over a two year span, of the "Alice Of Old Vincennes" play in the middle 1960's. He played the VU Wurlitzer theater organ for numerous popular dances at the Green Activities Center. This was one of his favorite things to do and he often recounted how the big theater pipe organ, with all its special effects, would bring couples to the dance floor for show tunes, big band hits and old standards.
When the Wurlitzer was installed by George and the late gifted musician Richard Ertel in the 1960s, the intricate setup gave new meaning to "extensive," as the special effects included, literally, many bells and whistles. George's description of that project was fascinating.
In addition to his other pursuits, he taught pipe organ performance and the particular techniques required to play the massive instruments. His students continued on to successful careers in and near music, having been tutored by one whose virtuoso performances were guides for all interested in fine musical literature.
---