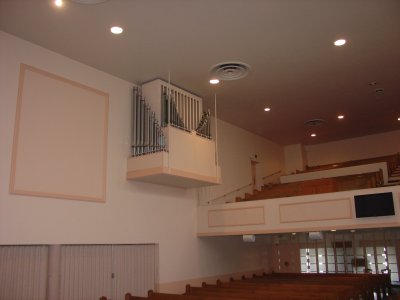 Antiphonal division
---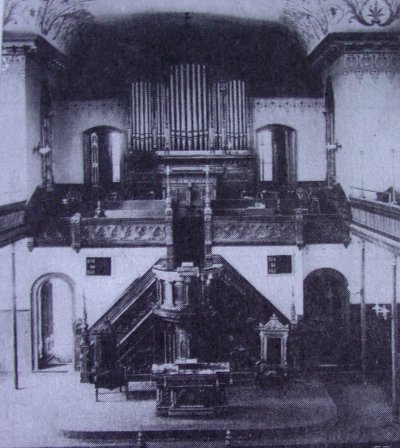 Sanctuary (above) as of 1890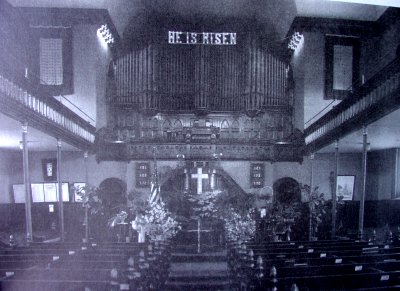 Sanctuary, early to mid-1900s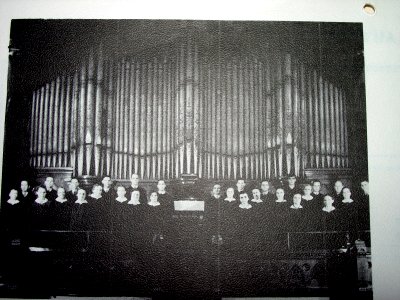 Close-up of choir loft and organ.
---
Mr. M. Knodel was the first organist at St. John's. A hand-pumped organ was located above the main entrance, and it was moved to the opposite end of the sanctuary in 1881. The hand-pumped organ was replaced by a water-powered instrument on August 24, 1904. This organ was the first one in Evansville to have three manuals, and was built by Marshall-Bennet Organ Co. of Moline, Illinois.

In 1909 the organ was enlarged and the first set of chimes was added. In 1919 an electric motor for the organ replaced the water-powered motor. In 1940 W.W. Kimball Co. of Chicago added pipes to the organ.
Between 1950 and 1981 the sanctuary underwent major renovations. The organ was expanded and the console and choir moved to the rear balcony, then later moved back to the front chancel area. The services of John Wolford, local organ technician and project designer, were utilized in some of this work.
In 1985 a new organ was built by Wicks Organ Company with the help of John and Dotty Wolford, Mike Wood, Bob Capra and Dan Nealon. It has three manuals, 57 ranks (22 from 1904) and 3023 pipes.
-Information and old photos are from a church history notebook and old church calendars on display during the 50th anniversary of the St. John's Church Eastside location. -NB

---
Back to Organ Page
Back to Evansville AGO Home