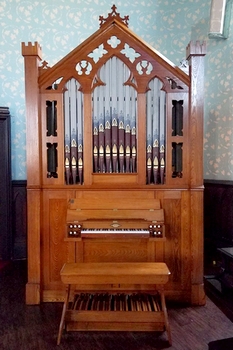 The Evansville Chapter of the America Guild of Organists presents special events open to the public including "One is all you need: organ music for one manual" featuring the historic Edmund Giesecke organ on Saturday November 12th beginning at 11:00 a.m. You can read articles and see an informative video about this organ, built in Evansville in the late 1800s, at links below.
This will be an opportunity to hear music played by area organists in an informal setting at First Presbyterian Church Evansville, Indiana, located at 609 S.E. Second Street in the historic preservation and arts district in downtown Evansville. The session is free and open to the public, and will last between and hour and ninety minutes.
Organists are invited to bring one or more seasonal or general pieces to play. Please let us know at our email address at the bottom of this page if you would like to play, and see the organ specifications link below.
After the music session, those who would like to have lunch as a group will go to a nearby restaurant(s) of the group's choosing.