The Evansville A.G.O. Presents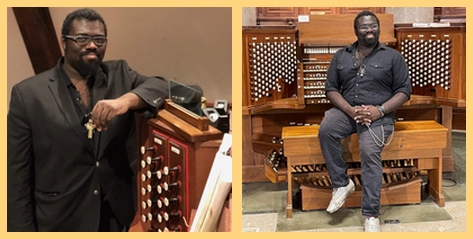 Wolff von Roos, Organist

Friday, November 10, 2023 at 7:00 p.m.
at Saints Mary & John Parish
in downtown Evansville
(Formerly St. Mary Catholic Church)
On the A. E. Schlueter organ
2011, 2 manuals, 38 ranks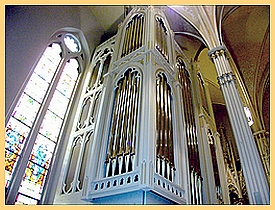 Follow our
Facebook Event
for more info and updates.
---
Organ-Related Community Events:
The Silent Movie Dr. Jekyll and Mr. Hyde (1941), will be accompanied by award-winning pipe organ improvisor Robert Nicholls on Saturday the 21st of October, 2023 at 7:00 p.m. on the Fisk organ at First Presbyterian Church in downtown Evansville. Free admission, donations gratefully accepted. Facebook event.

First Friday Organ Recitals: First Presbyterian Church in Evansville will be presenting some First Friday organ recitals during the 2023-2024 academic year on October 6, November 3, February 2, March 1, and April 5th. All of the First Friday concerts begin at 7:00 p.m., last about an hour, and feature students from the organ department at the IU Bloomington Jacobs School of Music. The first one, on October 6, will feature Owen Tellinghuisen.

---
Evansville A.G.O. Events in 2024 include
Pedals, Pipes and Pizza!
A fun introduction to the pipe organ for children and youth.
Email us at evansvilleago@yahoo.com for more information,
and watch for more upcoming programs TBA soon.
---
RECENT EVENTS:



Several members of our chapter played in the re-dedication of the historic Möller organ at First Presbyterian Church in Mt. Vernon, IN on Sunday afternoon, June 15, 2023.

Our chapter enjoyed an End-of-Summer Social on Monday, September 11, 2023 at the home of a chapter member, sharing good food and drink, summer conference and travel reports, a discussion of future chapter events and a short performance of pieces on our host's historic two-manual and pedal Estey Style-T reed organ.
This historic organ was purchased by the Evansville AGO Chapter.
The chapter commissioned Taylor and Boody Organbuilders to restore it.
It can be seen, heard and played at First Presbyterian Church in Evansville.
Contact Robert Nicholls at robertn@firstpresevansville.com
or by calling the church for more information.