Above: The Trompette en Chamade rank outlines the rose window in the rear gallery of the nave.
---
A History of the Organs at St. Paul's:
Prior to 1938, information about the St. Paul's Episcopal Church organ is sketchy, complicated by incidents of flood and fire. Following a fire which destroyed the interior of the church in 1938, a Pilcher organ of 17 ranks was installed.
In the early 1980s the organ was renovated by John Wolford of Evansville and the Wicks Organ Company, and rededicated on March 28, 1982. A new console and three new ranks of pipes were added.
-Provided by the parish historian in November 2008.
The organ was rebuilt around 1980 by the James K. Shawhan Pipe Organs, while Fr. Sandy was Rector of the parish. Mr Shawhan, with the assistance of Mr. Laisure and David Weingartner removed all of the Pilcher components and built new components using a Z-tronics relay system. These relays were later replaced by John Wolford, an Evansville area organ technician. A trumpet en-chamade was added in the rear gallery, originally with the highest pipes in the middle (see small photo below). The trumpet en-chamade was later redesigned to have the highest pipes on the ends of the chest to provide a better view of the window (see larger photo above).
-Emailed from David Laisure Pipe Organ Service Co. of Fort Wayne, IN in March 2011.
St. Paul's Listings with the Organ Historical Society:
H. & W. Pilcher (1852, Opus 21) 1 manual. 6 ranks.

Pilcher Bros., Chicago (1868, Opus 109) 2 manuals. 12 ranks.
Henry Pilcher's Sons (1925, Opus 1273) 3 manuals. 32 stops.
Henry Pilcher's Sons (1937, Opus 1837) 3 manuals.
Henry Pilcher's Sons (1939, Opus 1889) 2 manuals. 12 stops.
Source: Organ Historical Society Website
---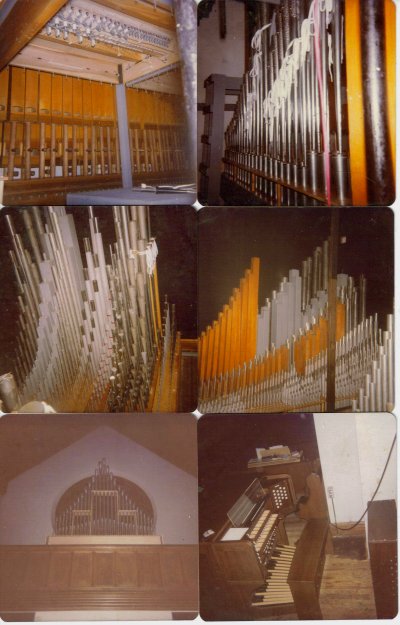 Six photos above provided by the David Laisure Pipe Organ Service Co.
---