ORGAN SPECIFICATION
M. P. Moller, Hagerstown, MD 1914
Two Manuals and Pedal
18 Ranks (nothing borrowed)
SWELL (Enclosed)
Bourdon 8
Open Diapason 8
Stopped Diapason 8
Salacional 8
Vox Celeste 8
Aoeline 8
Flute Harmonic 4
Violina 4
Flautino 2
Oboe 8
Tremolo
Couplers Swell 16, 4, Unison
GREAT (Unenclosed)
Open Diapason 8
Doppel Floete 8
Melodia 8
Dulciana 8
Principal 4
Tremolo
Chimes
Couplers Great 16, 4
Couplers SW to GT 16, 8, 4
PEDAL (Unenclosed)
Bourdon 16
Lieblich Gedeckt 16
Flute 8
Swell to Pedal 8, 4
Great to Pedal 8, 4
Pedal and Combination Action:
Balanced Swell Pedal
Grand Crescendo Pedal, controlling entire grand organ
5 General pistons
5 Swell Division pistons
3 Great Division pistons
1 Piston and Toe Stud Swell to Pedal
1 Piston and Toe Stud Great to Pedal
1 Piston and Toe Stud Sforzando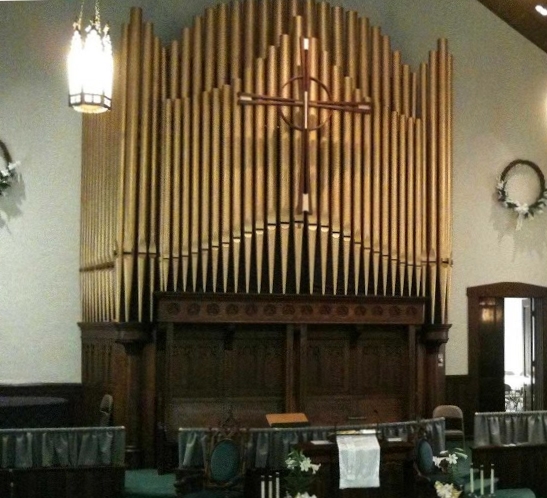 Organ history:
The organ (tubular pneumatic) was installed in the current sanctuary in 1914, with a dedicatory recital in April of 1915.
The organ was electrified (electro pneumatic) with a new console in 1955.
A complete restoration of the organ was done in 1981 by J. E. Cave Organ Co. of Evansville, IN.
The Chimes were added in 1983.
The organ is in excellent playing condition and continues to be well maintained by the church.
Information and photos prepared by Dennis J. Carr,
Organist First Presbyterian Church Mt. Vernon, IN
(November, 2008)